International May Conference on Strategic Management (IMKSM) is a leading international conference in the field of general management. This conference is organized by Management Department of Technical Faculty in Bor, University of Belgrade. This was a 13th year of the conference.
 IMKSM2017, was organized on 19 to 21th of May 2017. The conference was organized in the city of Bor. This was be the 13th year  of our conference.
___________________________
Book of Proceedings of all manuscripts presented at the IMKSM2017 is available here: IMKSM17_Book_of_Proceedings
Official Program of the IMKSM2017 conference is available here: Program_IMKSM17
Book of abstracts of the IMKSM2017 is available here: Zbornik apstrakta_IMKSM17
Detailed announcement for the IMKSM2017 is available here:IMKSM17 third announcement
Photo Gallery of all conference events is available here: Photo Gallery IMKSM2017
___________________________
Plenary Lectures for the IMKSM2017 were:
Prof. dr Jyrki Kangas, Professor of Forest Bioeconomy at the University of Eastern Finland. He has published more than 300 writings, of which more than 80 are peer-reviewed publications. Together with his colleagues he has written a textbook "Decision Support for Forest Management", and edited a textbook "The Analytic Hierarchy Process in Natural Resource and Environmental Decision Making". Kangas has been awarded the Scientific Achievement Award by the International Union of Forest Research Organisations, and, e.g., the OR Person of the Year by the Finnish Operations Research Society, Golden Medal of the Forest Management Club of the Finnish Society of Forest Science, and Golden Medal of Land Survey. His short CV is available here: IMKSM-Biography-JKangas . At the IMKSM2017, professor Kangas presented the research work on the subject: "Experiences on the use of MCDA methods in management of State-owned lands in Finland".
Elena Kalugina is director of Career Development Center at the Russian Presidential Academy of National Economy and Public Administration (RANEPA), Moscow, Russia (http://www.ranepa.ru/struktura/chentr-caryery/tsentr-karery). Graduate of the Moscow State Linguistic University, Elena Kalugina has over 15 years experience in managerial positions. Before joining the RANEPA in 2015 she worked  as Director of Center for Continuing Education of Institute of  International Social-Humanitarian Relations, Moscow. Elena Kalugina is an expert of Russian Federal Agency for Youth Affairs in youth social enterprenuership. In 2016 she initialized and managed more than 20 student project teams tackling corporate social responsibility issues. She organizes the annual RANEPA Students' Career Forum, an event hosting over 2000 participants and visitors (http://www.ranepa.ru/struktura/chentr-caryery/nashi-meropriyatiy/v-akademii-sostoyalsya-ezhegodnyj-studencheskij-karernyj-forum/). Her main research interests are responsible management practices; different approaches to responsibility in organizations, such as corporate social responsibility, social entrepreneurship, or corporate citizenship and forming competences of responsible business practices in students. At IMKSM2017 conference, Elena Kalugina has present her research on the topic: "Forming competences of socially responsible management as a significant driver for professional development"
dr Nenad Milijić is assistant professor at Engineering Management Department of Technical faculty in Bor, University of Belgrade. His main research interests are Project Management, Manufacturing management and optimization. At IMKSM2017 conference, dr Milijić presented his research work on the topic: "Analysis of the work safety factors in production companies, as important segment of their strategic development".
Prof. dr Teppo Hujala, is professor of forest bioeconomy foresight at University of Eastern Finland, School of Forest Sciences (Joensuu, Finland). Professor Hujala is author of  56 peer-reviewed scientific publications; co-editor of 7 scientific monographs; 37 publications to professional communities and 68 publications and newsletter articles to the general public. His key expertise fields are: action research, co-creation, digitalization, family forest owners, foresight, forest bioeconomy, multicriteria analysis, multi-level governance, policy analysis, qualitative research and service research. CV of professor Hujala is available here: CV_thujala_short_Jan2017. At IMKSM2017 conference, professor Hujala presented his research on the topic: "Participation rationales in environmental management".
___________________________
Conference topics of the IMKSM2017 were:
Strategic management
General management
Industrial and facility management
Material flow management
Environmental management
Management methods
Project management
Operational systems and technology
Quality management
Marketing
Entrepreneurship
Production management
Production systems management
Financial management
Management informational systems
Management informational technologies
Maintenance management
Management in practice
Healthcare and Sport management
Risk management
Tourism and Hospitality management
Agricultural and Forestry management
Special applications of management methods
_______________________________________________
Scientific Board (SB) of the IMKSM2017 Conference was:
Prof. dr Živan Živković, University of Belgrade, Technical faculty in Bor, president of the SB.
Prof. dr Ivan Mihajlović, University of Belgrade, Technical faculty in Bor, vice-president of the SB.
Prof. dr Aljaž Ule, University of Amsterdam, Faculty of Economics and Business, CREED – Center for Research in Experimental Economics and political Decision-making, The Netherlands, vice-president of the SB .
The members of the SB:
Prof. dr Peter Schulte, Institute for European Affairs, Germany
Prof. dr Michael Graef, University of Applied Sciences Worms, Germany
Prof. dr Jaka Vadnjal, GEA College Ljubljana, Slovenia
Prof. dr Geert Duysters, ECIS (Eindhoven Centre for Innovation Studies), Eindhoven University of Technology, Eindhoven, The Netherlands
Prof. dr Michale. D. Mumford, The University of Oklahoma, USA
Prof. dr John. A. Parnell, School of Business, University of North Carolina-Pembroke, Pembroke, USA
Prof. dr Antonio Strati, Dipartimento di Sociologia e Ricerca Sociale, Universities of Trento and Siena, Italy
Prof. dr Rajesh Piplani, Center for Supply Chain Management, Nanyang Technological University, Singapore
Prof. dr Musin Halis, University of Sakarya, Business and Administration Faculty, Serdivan, Turkey
Prof. dr Rekha Prasad, Faculty of Management Studies, Banaras Hindu University, India
Prof. dr Ofer Zwikael, School of Management, Marketing and International Business ANU College of Business and Economics The Australian National University, Australia
dr inż. Renata Stasiak-Betlejewska, Institute of Production Engineering, Faculty of Management, The Czestochowa University of Technology Poland.
Prof. dr Simon Gao, Edinburg Napier University, United Kingdom
Prof. dr Jadip Gupte, Goa Institute of Management, India
Prof. dr Jan Kalina, Institute of Computer Science, Academy of Sciences, Czech Republic
Prof. dr Vesna Spasojević Brkić, Universtity of Belgrade, Faculty of Machanical Engineering, Belgrade, Serbia
Prof. dr Milan Stamatović, Faculty of Management, Metropolitan University, Serbia
Prof. dr Jifang Pang, School of Computer and Information Technology, Shanxi University, China
Prof. dr Ladislav Mura, University of Ss. Cyril and Methodius, Trnava, Slovakia
Prof. dr Pal Michelberger, Obuda University, Budapest, Hungary
Dr. Slobodan Radosavljević, RB Kolubara, Lazarevac, Serbia
____________________________________________
Publication: All abstracts of the papers from the MKSM2017 were published in Book of abstracts, before the conference, in the printed edition.
Also, all the papers were  published in Book of Proceedings of the conference, in the electronic form (CD), after the conference.
_______________________________________________
International May Conference on Strategic Management – IMKSM  www.mksm.sjm06.com  is accepted in the EBSCO Host base. Accordingly all papers published in the books of proceedings, starting with the IMKSM2014 conference, are included in the Ebsco Host Data Base  http://www.ebscohost.com
Books of proceedings from all previous conferences are available at: http://menadzment.tfbor.bg.ac.rs/arhiva-zbornika-radova/
---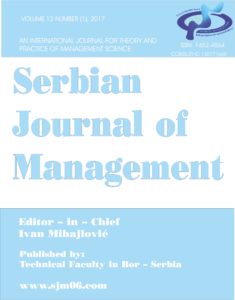 Selected papers from the IMKSM conferences are published in Serbian Journal of Management – SJM an international journal for theory and practice of Management science.  Serbian Journal of Management is covered by SCOPUS and EBSCO.
Also, there is possibility to publish selected manuscripts of the conference in the journal The Acta Oeconomica Universitatis Selye  , which is indexed in ERIH PLUS base.
ROUND TABLE:
In frame of the IMKS2017, round table panel discussion was  organised, with the topic: "Practical approaches to Natural Resource Management for sustainable regional development."
The following topics were covered in this round-table:
Environmental management
Green Economy
Eco-tourism
Eco-entrepreneurship
Forest management
Tourism and Hospitality management
Material flow management
STUDENTS SYMPOSIUM ON STRATEGIC MANAGEMENT:
In parallel with the IMKSM2017, 13th  Students symposium on strategic management was also organized. Students at the bachelor and master level did not have to pay the conference fee.
For additional details, considering the students symposium, contact Mr. Ivica Nikolic, PhD student, President of the Students Symposium Organizational Board:
Address: Technical faculty in Bor,
University of Belgrade,
Vojske Jugoslavije 12, 19210 Bor, Serbia
E-mail: inikolic@tfbor.bg.ac.rs
Tel: +381(30) 424 547; Fax: +381(30) 421 078
Accommodation of the Conference Participants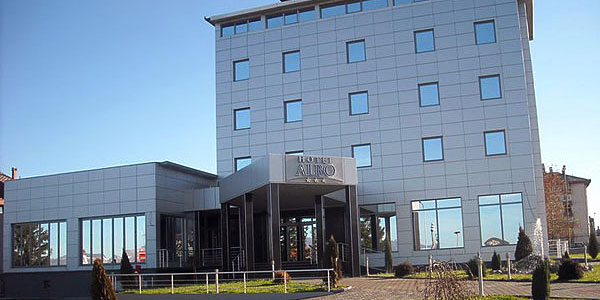 One of suggested accommodation, for the IMKSM2017 conference, in city of Bor was Hotel "ALBO" which is located at attractive location on the entrance of the city of Bor. Hotel ALBO is famous for its excellent traditional Serbian food.
Contact details for information and reservation:
Reception:    +381(30) 24 96 962
Reservation +381(30) 24 96 964
E-mail: office@hotel-albo.rs
Room reservations had to be done before 30th of April 2017 !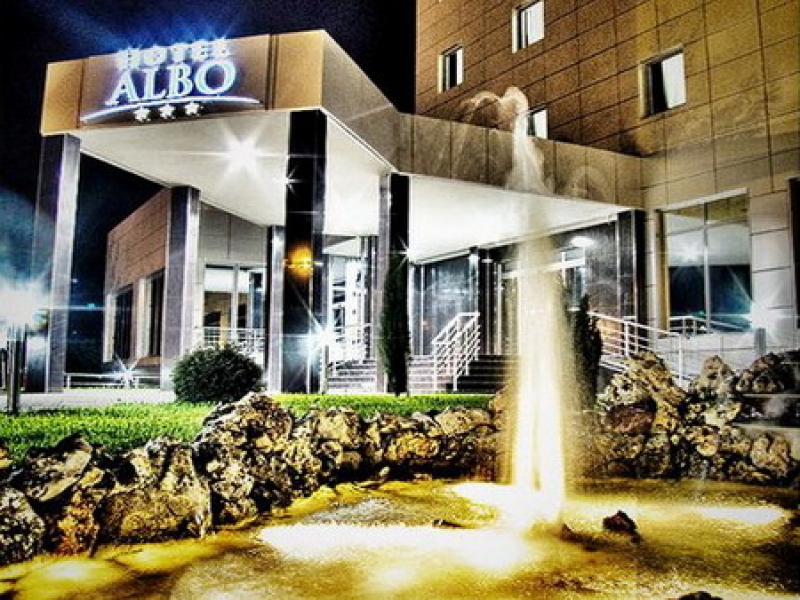 _______________________________________________
All further information about the conference and  events you can obtain from:
Assistant professor Predrag Đorđević, President of the Organizational Board of MKSM2016. University of Belgrade, Technical faculty in Bor, Management department.  Address: Vojske Jugoslavije 12, 19210 Bor, Serbia
or
Professor Ivan Mihajlovic, Vice – president of the Scientific Board of MKSM2016. University of Belgrade, Technical faculty in Bor, Management department.  Address: Vojske Jugoslavije 12, 19210 Bor, Serbia
          Mobile phone: +381(64)227 36 21